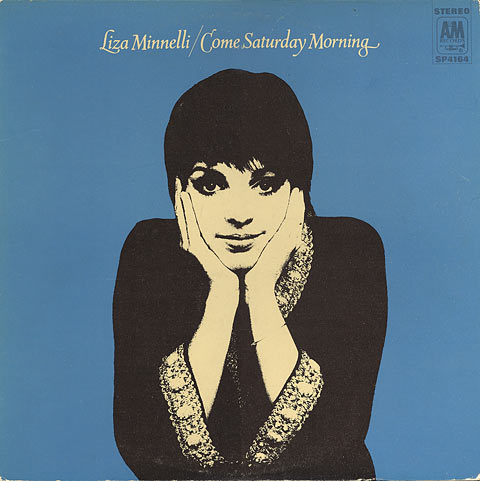 (To read reviews of this album, click here!)
---
This page is devoted to Liza Minnelli's fifth studio album, Come Saturday Morning.
Come Saturday Morning is Liza's fifth studio album, and the second album with Herb Alpert's A&M Records in Los Angeles. The album was recorded in four sessions; three during August of 1968 in Los Angeles (August 8th, 29th, and 30th), and the other being November of 1968 in Manhattan. The album was produced by Larry Marks and arranged by Dick Hazard, Michael Colombier, Bob Thompson, and Peter Matz. It was engineered by Ray Gerhardt, courtesy of Project III Records Inc. The album design is by Corporate Head, the art director is Tom Wilkes, and the photography by Guy Webster, much like the last album. The album was then released on February 1st, 1969 as #SP-4164. Much like the prior albums released, this too failed to chart or sell.
The title of the album is from the first track (of the same title), which also happened to be the theme song to the movie The Sterile Cuckoo, which Liza starred in as well. Although in the film, another A&M act, The Sandpipers' version was used, Liza recorded a rendition as well, which is what appears here on this album. It had first been released as a single; both one of Liza's, and one of the Sandpipers'. The song had won an Academy Award nomination, as had Liza for best actress in the film, and the song took off - signaling to A&M Records that the time must be right for another Liza Minnelli album.
Most of the rest of the songs appearing on the album, Liza picked then-current pop/rock and singer/songwriter songs of the moment. There was also a smattering of her typically Broadway/Vaudevillian sounding songs as well, plus another song written by her then-husband, Peter Allen. The other songs he'd previously written for her had been part of a collaboration; "Simon" was the first song he'd written all by himself for Liza. Also recorded during the sessions for this album was a rendition of "Frank Mills" (from the musical Hair), but it was cut from the album at the last minute and released as a single instead after Liza appeared performing it on an episode of The Ed Sullivan Show on January 19th, 1969.
The album never received a CD release on its own; rather, it only re-emerged in its entirety recently as part of Liza Minnelli: The Complete A&M Recordings in 2008; which also includes outtakes and previously unreleased recordings from the A&M recording sessions.
---
Tracklisting:
Side One:
1. Come Saturday Morning (Fred Karlin, Dory Previn)
2. Raggedy Ann & Raggedy Andy (Larry Marks, Marilyn Bergman, Alan Bergman)
3. Leavin' on a Jet Plane (John Denver)
4. Wailing of the Willow (Harry Nilsson)
5. Nevertheless (Bert Kalmar, Harry Ruby)
6. Wherefore and Why (Gordon Lightfoot)
Side Two:
1. Love Story (Randy Newman)
2. On a Slow Boat To China (Frank Loesser)
3. Don't Let Me Lose This Dream (Aretha Franklin, Ted White)
4. Simon (Peter Allen)
5. MacArthur Park/Didn't We? (Jimmy Webb)
---