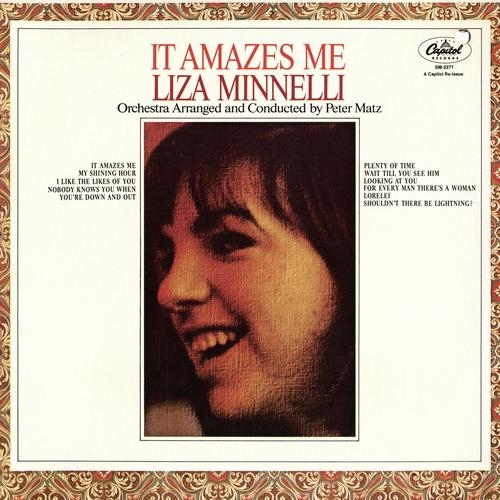 (Click here to read reviews of this album!)
---
This page is devoted to Liza Minnelli's second studio album, It Amazes Me.
After releasing her first album with Capitol Records in September of 1964, Liza was kept busy with a traveling production tour of the off-Broadway musical The Fantasticks, television appearances, and of course, the famed London Palladium appearances with her mother, Judy Garland. During December of the same year (and into the following January), Liza worked once again with the very same team that helped produce and create her first studio album, Liza! Liza!, at Capitol Records' New York studio at 151 West 46th Street. This team included producer Si Rady and orchestral arranger and conductor Peter Matz. It was released May 10th, 1965 as #ST-2271, and later reissued circa 1978-1980 as an abridged LP by Captiol's Special Markets division, in which it dropped the song "I Never Has Seen Snow". Although never released to CD officially, the tracks all resurfaced on Liza Minnelli: The Complete Capitol Collection (released on the DRG label July 25th, 2006) along with Liza's other two Capitol albums, Liza! Liza! and There Is A Time. There also has been a direct-to-MP3 release of the It Amazes Me album on Amazon.com on August 25th, 2009 (click here for listing).
The tracklist of this albums contains a wonderful blend of both ballads and bouncy, upbeat tunes, much like her first album. However, one track, recorded on December 19th, 1964, would lie dormant for the next four decades in the archives, unheard until Liza Minnelli: The Complete Capitol Collection was released in 2006 - a whopping 41 years after the release of the album it was initially recorded for. The track in question is "Walk Right In/How Come You Do Me Like You Do?"; a medley in which Liza 'duets' with herself. She would later use this same technique on songs on the The Singer album (1973), such as "Where Is The Love?", as well as other numbers like "All That Jazz" and "Lucky Lady", both recorded in 1975.
Liza's vocal quality on this album is absolutely flawless, even if she does still have a very new, wet-behind-the-ears feel to it, as she was still trying to discover what exactly her 'sound' was and was still experimenting with the possibilities. This also contributed to the overall feeling of a young, new talent spreading her wings as one listens to the album. She may not have yet been perfectly polished, but the amount of personal growth as both a singer and an actress is palpable when comparing this and her first studio album with one another. Some of the finest tracks of Liza's career are found on this album. The orchestra is also much lusher than that on the first album; the result of the studio being more willing to spend for a higher budget after seeing that Liza! Liza! was indeed successful. The sound quality in general was also improved; the album cover itself boasted "New Improved, Full Dimensional Stereo" and that it "sounds better than Stereo has ever sounded before!" Indeed, the album does have a deeper, richer sound quality to it. Capitol must have been aware that they had a new hit on their hands and wanted to be able to compete with the likes of Barbra Streisand (who, at that point, was another up-and-comer herself).
There is also a certain Streisand-esque quality to the album as Matz also worked for Barbra as well. His tastes came through on the albums he worked on at the time; on Streisand's debut album, he picked "A Sleepin' Bee" from the 1954 Harold Arlen/Truman Capote musical House Of Flowers; for Liza, he picked "I Never Has Seen Snow" (of which the title was grammatically cleaned up for the album) from the same show. Also in efforts to keep her competitive with Streisand, Matz attempted to present Liza not only as a great singer, but as a bubbly personality as well. On "I Like The Likes Of You", Liza was encouraged to pretend the performance was still being thrown together and rehearsed, complete with false starts and a few intentionally flubbed lines, even though it was written exactly the way she sang it. Matz mixed up his arrangements with a variety of sounds, with strings here, brass there, the occasional bongo drums (seen on songs such as "Wait Til You See Him"), and even an acoustic guitar opening to "Nobody Knows You When You're Down And Out" (quite possibly a reference to the Peggy Lee version of another Rodgers & Hart song, "Lover"). Liza adapted herself to all of this, but she sounded most at home on the contemporary songs that didn't come from shows (even though they were written by Broadway teams), such as the title song and Kander & Ebb's "Plenty Of Time". At that time, Liza was preparing to open in the first Kander & Ebb Broadway musical, Flora, The Red Menace and was already demonstrating a strong affinity for their work, and she inhabited the story-song that was "Plenty Of Time" in a way that sounded truer than her dutiful interpretations of Matz's favorite Arlen tunes. As Peter Matz once again supplied the song arrangements, they come off as stunning as Liza's singing. (Matz went on to continue working with Liza all the way up until the spring of 2001, as her accompanist at an AIDS event where she sang "Maybe This Time", shortly before he passed away.)
Although the album failed to chart or sell very well, It Amazes Me remains a staple for Liza collectors, and is definitely amongst the top albums of her career. It's a strong effort from a young but clearly talented performer.
---
Tracklisting:
Side One:
1. Wait Till You See Him (Richard Rodgers, Lorenz Hart)
2. My Shining Hour (Johnny Mercer, Harold Arlen)
3. I Like The Likes Of You (Vernon Duke, Yip Harburg)
4. It Amazes Me (Cy Coleman, Carolyn Leigh)
5. Looking At You (Cole Porter)
6. I Never Have Seen Snow (Harold Arlen)
Side Two:
1. Plenty Of Time (John Kander, Fred Ebb)
2. For Every Man There's A Woman (Harold Arlen, Leo Robin)
3. Lorelei (George Gershwin, Ira Gershwin)
4. Shouldn't There Be Lightning? (Larry Alexander, William Goldenberg)
5. Nobody Knows You When You're Down And Out (Jimmy Cox)
6. Walk Right In/How Come You Do Me Like You Do (Hosea Woods, Gus Cannon, Bill Svanoe, Erik Darling/Gene Austin, Roy Bergere)
7. A Quiet Thing (John Kander, Fred Ebb) *
8. All I Need (John Kander, Fred Ebb) *
9. Imprevu (Johnny Richards) *
10. Did I Hurt Your Feelings? (Bob Crewe) *
11. Sing Happy (John Kander, Fred Ebb) *
12. Dear Love (John Kander, Fred Ebb) *
13. I'm Not Laughing (R. Bondi, Bob Crewe) *
* denotes did not appear on the original album release
---