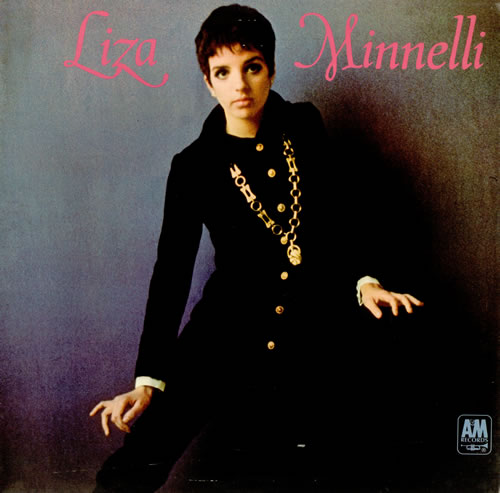 (To read reviews of this album, click here!)
---
This page is devoted to Liza Minnelli's fourth studio album, Liza Minnelli.
Liza Minnelli is Liza's fourth studio album, but first album with Herb Alpert's A&M Records in Los Angeles. Her contract with Capitol Records had run out after her third album, and after the latter two failed to chart or sell many copies, they chose not to renew or extend her contract. Recorded from October through December 1967, the album was produced by Larry Marks and arranged by Peter Matz, Nick de Caro, Bob Thompson, and J. Hill. It was engineered by Ray Gerhardt, Donald Hahn, and Peter Matz, courtesy of Project III Records Inc. The album design is by Corporate Head, the art director is Tom Wilkes, and the photography by Guy Webster. The album was then released on February 9th, 1968 as #SP-4141. Much like the prior two albums released by Liza, this too failed to chart or sell.
Unlike her prior albums however, this is the first one to venture away from her typically Broadway sound and more into the genre of contemporary 1960's pop and singer/songwriter works. The main inspiration for this shift was her recent marriage to songwriter Peter Allen, who was very fond of Randy Newman (whose songs are featured the most prominently on this album). Songs that were recorded but never appeared on the final release were "Snow", "No One Ever Hurt So Bad", and "Hong Kong Blues". Four additional unreleased tracks that were found on an A&M tape labeled "1968" are "I'm Looking Over A Four Leaf Clover", "Alicinha", "I'll Never Fall In Love Again", and "This Girl's In Love With You". These tracks would later make their debut on "Liza Minnelli: The Complete A&M Recordings" on November 25, 2008 (link). The only time the original album has been released as a CD on its own was as an overseas, now hard-to-find import that tends to go for hundreds of dollars on Ebay.
The back cover boasts the following quote about Liza from Fred Ebb: "Asking me about Liza Minnelli is like asking a child his opinion of Christmas. I can think only of joy - how she sparkles, how she glows and how she makes me happy. How she is always something to look forward to - an occasion - a blessing. But for those of you who dislike rhapsodic bleating and would like it simply said - I think she's the lovin' end."
---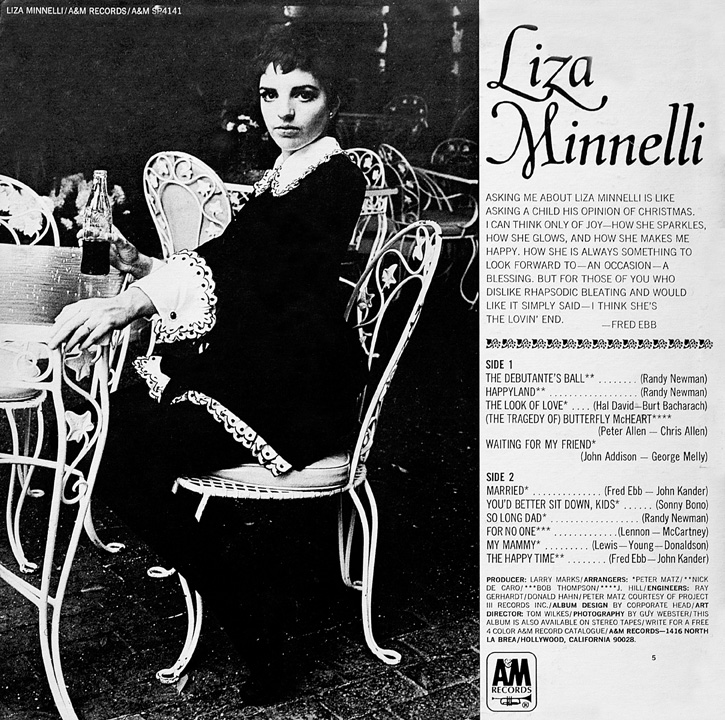 ---
Tracklisting:
Side One:
1. The Debutante's Ball (Randy Newman)
2. Happyland (Randy Newman)
3. The Look Of Love (Hal David, Burt Bacharach)
4. (The Tragedy Of) Butterfly McHeart (Peter Allen, Chris Allen)
5. Waiting For My Friend (John Addison, George Melly)
Side Two:
1. Married/You'd Better Sit Down, Kids (Fred Ebb, John Kander/Sonny Bono)
2. So Long Dad (Randy Newman)
3. For No One (John Lennon, Paul McCartney)
4. My Mammy (Sam M. Lewis, Joe Young, Walter Donaldson)
5. The Happy Time (Fred Ebb, John Kander)
---