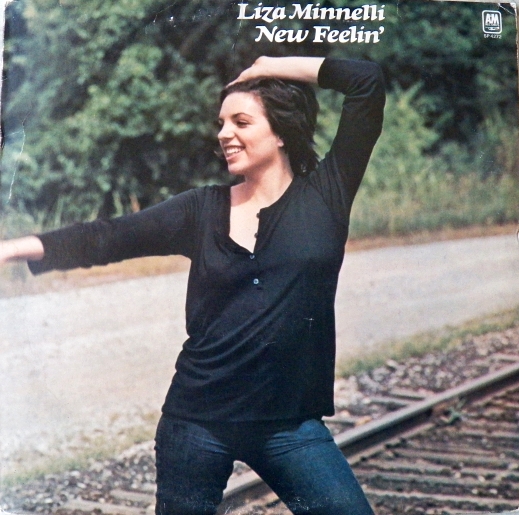 (To read reviews of this album, click here!)
---
This page is devoted to Liza Minnelli's sixth studio album, New Feelin'.
New Feelin' (A&M Records, #SP-4272) is Liza's sixth studio album, and the third album with Herb Alpert's A&M Records in Los Angeles. It would be the final studio album she'd record on the A&M label; there would be one more release under the label two years later, but as a live album, it doesn't quite count as a true album. There were plans for one more studio album slated to be recorded in the same studio from January 25th - February 13th, 1971; immediately before filming would begin for Cabaret, but the album was cancelled at the last minute.
The album was recorded at Muscle Shoals, Alabama during spring and summer of 1970. It was engineered by Mickey Buckins and Sonny Limbo, the art direction by Tom Wilkes, and the album was produced, arranged, and the photography taken by Rex Kramer (lead singer of The Bojangles), who was dating Liza at the time. It was new and uncharted territory for everybody involved: not only had Liza never recorded an album quite like this one, but Rex Kramer had never produced an album before.
A&M had a very unique problem with Liza. While she continually managed to sell out concert halls and nightclubs and was always in demand, not to mention was already an Oscar-nominated actress and had won a Tony award, she still couldn't seem to sell many albums. The problem, of course, was the fact that rock music was the trend, and the type of pop music that Liza best embodied wasn't matched by her contemporaries; rather, it was that of performers twice her age or more. As most record companies of the 1960's and early 1970's had done, A&M tried to compromise with Liza by getting her to record soft rock by contemporary songwriters; however, this strategy was hardly ever successful, and it wasn't in Liza's case either. So for her third A&M record, the label decided to compromise further: they used a collection of old standards from as early as 1917 through the 1940's (with which Liza was more comfortable than the work of contemporary artists), but now the tone was very pop-rock-funk-bluegrass-country-soul. The result was arguably the most contemporary-sounding album Liza had ever made. The title of the album reflected the mindset of both Liza and of the record company felt they should have while creating this album in its new style. It was a wise move, as unlike the past several albums, this album charted, debuting on November 28th, 1970, and peaking at 158 on Billboard's Top 200 charts; where it spent 3 weeks on the charts. It's likely that the reason this album fared well was that it was promoted on just about every network TV variety show at the time (such as The Ed Sullivan Show, This Is Tom Jones, The Johnny Cash Show). She even performed at The Grand Ole Opry in Nashville to help promote it.
However, the general reception and reaction to the album was, and still is, greatly varied. It is by far one of her most unique albums, although some would argue for all the wrong reasons. Some argue that it's her worst album, both in concept and in execution. As she was dating Rex Kramer at the time when the album was made, it's possible that she judged the project more with her heart than with her head. It falls into the same category as Barbra Streisand's album Butterfly, which her then-partner John Peters produced, but proved that he was a better musician than a producer. Some fans warn to avoid this album at all costs. (I personally do not feel so harshly about this album, as I quite like many of the songs on it.) The twangy guitars, the droning organ, the popping electric bass, the pounding drums, the blaring horn section, and the gospel-y female backup singers spelled out a combination that didn't at all feel like a Liza Minnelli album, for better or for worse. Also with all the new competition style-wise, Liza reacted by singing louder and harder than she normally would, which also contributes to the very different sound. Many feel it was a failed experiment. However, despite many fans' aversion to this recording, it should be noted that quite a few tracks from this album continue to appeal on greatest hits compilations of Liza's work. It's all a matter of personal opinion.
New Feelin' was never released on its own as a cd, but was released in its entirety for the first time on CD as part of Liza Minnelli: The Complete A&M Recordings in 2008. This also included outtakes and unreleased recordings from the A&M sessions.
---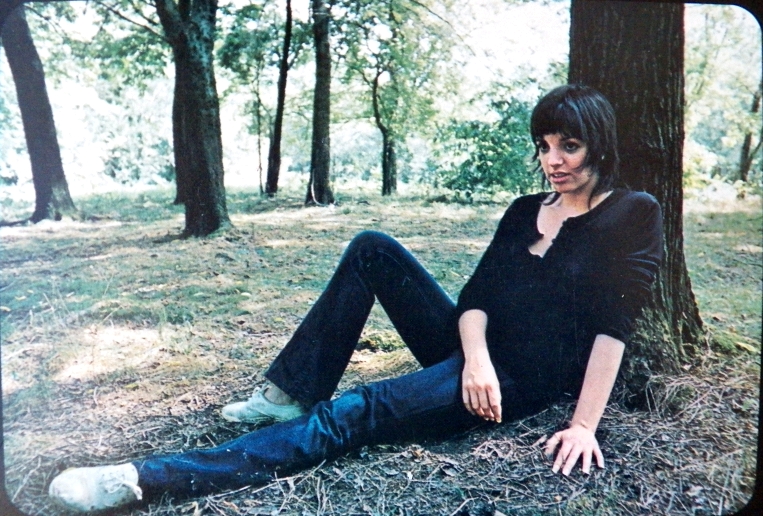 ---
Tracklisting:
Side One:
1. Love For Sale (Cole Porter)
2. Stormy Weather (Harold Arlen, Ted Koehler)
3. Come Rain Or Come Shine (Harold Arlen, Johnny Mercer)
4. Lazy Bones (Johnny Mercer, Hoagie Carmichael)
5. Can't Help Lovin' That Man Of Mine (Oscar Hammerstein, Jerome Kern)
Side Two:
1. (I Wonder Where My) Easy Rider's Gone (Shelton Brooks)
2. The Man I Love (George & Ira Gershwin)
3. How Long Has This Been Goin' On? (George & Ira Gershwin)
4. God Bless The Child (Billie Holiday, Arthur Herzog)
5. Maybe This Time (John Kander, Fred Ebb)