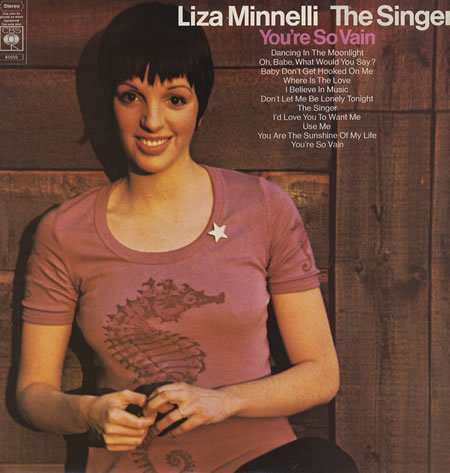 (Click here to read reviews of this album!)
---
This page is devoted to Liza Minnelli's eighth album, The Singer.
There isn't much publicly available information about this album, so I'll do my best with what's out there. (If you have more information about this album, please contact me and I'll add it to the page!)
The Singer appears to have been recorded during September 1972, although possibly other dates were involved as well - not all the label logs are still available.) It was recorded at Larrabee Sound Studios and produced by "Snuf" Garrett for Garrett Music Enterprises. It was arranged by Al Capps; the vocal arrangements by Marvin Hamlisch; engineered by Lenny Roberts; art direction by Ron Coro; and photography by Alan Pappé. It was released by Columbia Records, #KC 32149, in March 1973. (There was also a quadraphonic release for stereo systems set up with four speakers instead of the traditional two.)
As Liza was the biggest and hottest "new" star during the spring and summer of 1972 thanks to Cabaret, her new label decided her new album ought to reflect this, as well as her youthful age, in an attempt to appeal to a younger crowd. The song list comprises mostly of songs that were hits at the time by other artists doing "light pop" (aka AM radio/Top 40), and Liza tried her hand at them as well. It was a winning combination, as the album sold quite well. It joined Billboard's charts on March 24, 1973, and stayed there for 20 weeks, peaking at number 38. This was the last time to date that a Minnelli solo album would hit the Top 40. Also, the "Dancing in the Moonlight" single reached number 22 on the British pop charts. The album itself reached number 45 in the British charts.
The album was issued on CD in 1988 by Columbia/Sony, #CK 32149. It has long since gone out of print, but in 2001 it was made available once again from Sony as part of a two-CD set import from Australia, called the Liza Minnelli: Double Pack; the other album being Liza with a "Z".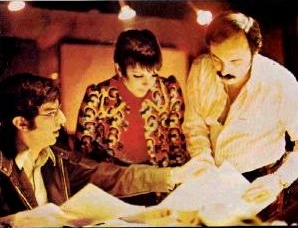 ---
Tracklisting:
Side One:
1. I Believe In Music (Mac Davis)
2. Use Me (Bill Withers)
3. I'd Love You To Want Me (Edu Lobo)
4. Oh, Babe, What Would You Say? (E.S. Smith)
5. You're So Vain (Carly Simon)
6. Where Is The Love? (Ralph MacDonald, William Salter)
Side Two:
1. The Singer (Walter Marks)
2. Don't Let Me Be Lonely Tonight (James Taylor)
3. Dancing in the Moonlight (Sherman Kelly)
4. You Are The Sunshine Of My Life (Stevie Wonder)
5. Baby Don't Get Hooked On Me (Mac Davis)