Liza Minnelli Brings Home New Show to NJPAC in Newark (via NJ.com)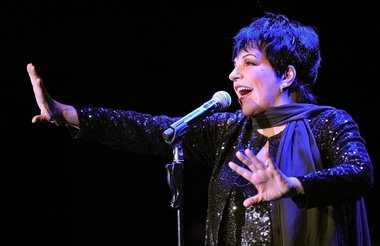 Liza Minnelli performing in Germany in 2009.
She won't be dancing her way onto the stage at NJPAC on Saturday night.
A broken leg, suffered during a fall she took in November, has limited her mobility somewhat.
But all fans of Liza Minnelli know: Catch the star in performance, and no matter what, you're guaranteed to be entertained.
"Every other country has singers or actors or performers," says Minnelli, 65. "We're the only country that really has entertainers. Entertainment really started out as an American art form, and I think it continues to be."
The formidably talented Minnelli, who has been in show business since early childhood, is proud to stand in the American tradition of multifaceted performers. She's excelled at singing, dancing and acting — especially when combining all three into a single expression of her artistic will.
And while it is possible to bathe in the full wattage of Minnelli's star power at a theater or even in front of the small screen, to truly understand why she's so beloved, you've got to see her in concert.
"I've calmed down a bit," says Minnelli, whose NJPAC appearance was scheduled for Dec. 16 before the fall sidelined her. "But I try to make every night onstage exciting, no matter what. I've got to love it, otherwise why would I even be doing it at this point?"
Minnelli is famous for the warmth, generosity and respect for showbiz history that she regularly brings to the stage. But even longtime fans were unprepared for the command she demonstrated in her show, "Liza's at the Palace …!"
"Liza's," which ran at the Palace Theatre on Broadway in December 2008 and January 2009, was, in part, a tribute to the two women who exerted the greatest influence over Minnelli's early development as a performer: her famous mother, Judy Garland, and her lesser-known godmother, Kay Thompson.
Minnelli resurrected Thompson's nightclub act of the '40s, and performed a modified version of Garland's "Palace Medley," which her mother performed at the same theater decades ago. It was simultaneously an act of great imagination and one of considerable fidelity to source material that held great personal significance to her. The show won Minnelli a Tony Award for best special theatrical event.
The show that Minnelli brings to Newark doesn't include many elements from "Liza's at the Palace …!" Yet Minnelli suggests that the energy and invention of that concert has carried over into her new project.
"It's a brand-new show," says the performer, who is thrilled to return to NJPAC, a theater she lauds for its intimacy. "It came from me wanting to do something smaller, but one that had the same kind of power."
Minnelli attributes that power to her ability to coax the narrative out of every song she sings. She credits French singer Charles Aznavour for helping her locate that character and make the elaboration of that character's motivation the core of her performance.
"I always have the story line in my head. I always know who the person is, and why she's saying what she's saying. What I'm singing is what the character is thinking, or doing."
It's a rewarding approach that can be applied to singing far beyond Broadway, and Minnelli has never confined herself to standards. In 1989, she cut the "Results" album with Pet Shop Boys Chris Lowe and Neil Tennant, and showed a fresh generation of listeners that she could apply her voice, her warmth and her technique to synthpop as easily as she could to Sondheim.
When ferocious (albeit theatrical) Belleville pop-rockers My Chemical Romance needed an expressive vocalist to sing the part of the Mother on the 2006 concept album "The Black Parade," Minnelli got the call. She cut her part on "Mama" enthusiastically — she didn't even charge the band.
"They just called up and said, 'Do you want to do this?' and I was happy to," says Minnelli. "I am just a very curious person, and I enjoy exploring everything from rock 'n' roll stuff to the classics."
Minnelli hasn't let the accident slow her down much and intends to keep on conceptualizing shows as long as they keep coming to her. The entertainer insists she's always got a project cooking and is always looking around, taking inspiration for the characters she plays from the interactions of ordinary people.
"I always think from the audience's point of view. What would they want to pay to see? I know if I was there, I'd want to get my money's worth."
Liza Minnelli
Where and when: Prudential Hall at New Jersey Performing Arts Center, 1 Center St., Newark, Saturday; Event Center at Borgata Hotel Casino and Spa, Atlantic City, March 24. Both shows at 8 p.m.
How much: $39 to $125 for Newark; call (888) 466-5722 or visit njpac.org. $75 to $95 for Atlantic City; call (609) 317-1000 or visit theborgata.com.
Liza Minnelli Reveals Intimate Details on NJPAC Performance, 'Hot In Cleveland' Role and Judy Garland (via Huffington Post)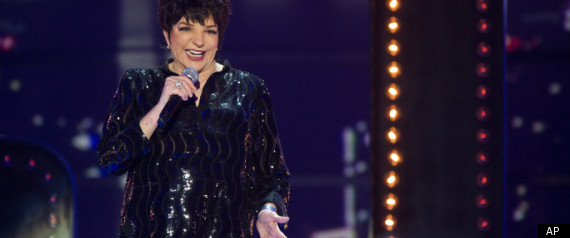 She's captivated standing-room-only audiences across the globe, nabbed an Oscar for her role in a celebrated Hollywood musical and held court amongst New York's famed glitterati at Studio 54.
However, one week before she is set to take the stage at the New Jersey Performing Arts Center (NJPAC) on Feb. 4, Liza Minnelli has something considerably less glamorous on her agenda: a visit to the dentist.
Calling just minutes following her appointment, Minnelli apologizes in advance if she is difficult to understand over the telephone. Of course, something as minor as dental anesthetics would never be able to numb this ever-shining star; after all, it's Minnelli's well-established survival skills -- not to mention her unique brand of wide-eyed, precocious spunk -- that helped make her a gay icon for multiple generations, with a legacy rivaling only her legendary (and similarly tenacious) mother, Judy Garland.
Busy as ever, the 65-year-old singer-actress who Joy Behar once jokingly introduced as having "entertained more gay men than Larry Craig" will be whisked off to rehearsal shortly after the phone call. Still, she speaks enthusiastically and at length about her highly-anticipated NJPAC performance as well as her forthcoming guest-starring turn opposite Betty White on the hit series "Hot In Cleveland," while sharing memories of working with famed Broadway and film choreographer Bob Fosse and, of course, the beloved Judy.
Huffpost Gay Voices: Congratulations on your upcoming NJPAC performance. What sorts of surprises do you have in store for us?
Liza Minnelli: Liza Minnelli: My show is called "Confessions," and it's really a collection of various songs about how I feel about different things, what I believe in, people I've known -- some of whom nobody would ever know. "Confessions" is really all these different points of view; it's something I learned from [Armenian-French singer-songwriter] Charles Aznavour when I was 19. I saw him perform in Paris, and his show just killed me because each one of his songs was like a movie.
I knew I could dance and I knew I could act, but I never thought I could sing, so I went to Aznavour in Paris and I asked if I could be his student, and he said, "Sure." And he really taught me everything I know about singing -- how each song is a different movie.
Huffpost Gay Voices: You've also signed on for an episode of "Hot In Cleveland," set to air later this season. What's your character going to be like?
Liza Minnelli: They haven't told me a thing! I'll be out there Feb. 12, so I'll just see what they tell me and I'll do it, kind of like what I did with "Arrested Development" -- everybody was just so excellent on that show; I just respected everybody on that set so much. Of course having the chance to do anything with Betty White is great.
Huffpost Gay Voices: Two living legends, united on the small screen...
Liza Minnelli: What the hell is a "living legend"? (laughs)
Huffpost Gay Voices: Well, in my opinion, a living legend is someone whose work and career are immensely respected across multiple generations and in various industries.
Liza Minnelli: Well, thank you -- I guess as long as it's a living one, it's OK! (laughs) But I always think of myself as a gypsy, a Broadway performer who travels from show to show.
Huffpost Gay Voices: You're one of the few entertainers who has won an Oscar, an Emmy and a Grammy, not to mention four Tony Awards. Is there anything you're dying to do, either personally or professionally, that you haven't already?
Liza Minnelli: I won't know until it happens -- that's it. I love it because things just come up! I rarely plan anything unless it's a tour or a show I'm working on, and in the meantime, all of these mad, wonderful things have happened, like My Chemical Romance calling me up and asking me to sing with them.
Huffpost Gay Voices: 2012 marks 40 years since the release of "Cabaret," for which you won the Academy Award. What comes to mind when you look back on that film?
Liza Minnelli: Bob Fosse. And just how extraordinary it all was. Bob took immense risks in terms of how he depicted sensuality in the choreography, the photography. It was so fun. We were away in Germany and we were doing this kind of outrageous, wonderful film. We wanted to make a musical about Nazis, so we could really kind of do anything we wanted. And our cinematographer, Geoffrey Unsworth, was just so great. At one point they sent him a letter that said there was too much smoke in the cabaret...Bob took the letter from him and tore it up.
What Bob did was just extraordinary. I came on before Bob, as you know...[his work] really reminded me so much of a film called "The Damned," which was just so dark and wonderful and bizarre. I remember seeing that film with my dad [director Vincente Minnelli], who was always there for me. He helped me so much all of the time.
Huffpost Gay Voices: Your mother, Judy Garland, remains one of most fascinating stars in Hollywood history. Even though there's been a tremendous amount of research into her work and analysis of her life, what do you think is the biggest misconception audiences still have about her?
Liza Minnelli: The biggest misconception people have about my mother is that she was so unhappy. I think people enjoy thinking that -- some of them, anyway. They see the tragedy as opposed to the fact that she understood how to play tragedy.
I remember somebody at school once said something really mean about her: "Oh, Judy does too much of this or that, she drinks too much." And I came home from school crying; my mother asked me what was wrong and I told her. And then she said, "You know what? You let everybody say what they're gonna say, and we'll go get a hamburger."
Liza Minnelli performs at the New Jersey Performing Arts Center in Newark on Feb. 4. For more information click here.
Check out some of Liza's best moments over the years below:
Liza Minnelli & Judy Garland, 'Together (Wherever We Go)' (1963) - This stellar performance -- among others seen on 'The Judy Garland Show' -- made it clear that Liza was poised to follow in her legendary mother's footsteps.
Joining Judy Onstage for 'Over the Rainbow' (1965) - Liza has generally (and some say wisely) steered clear of Judy's musical repertoire throughout her career, but she seemed happy to join in on this 1965 performance of her mother's signature song at the London Palladium.
'Cabaret' (1972) - Liza took home an Oscar for her portrayal of Weimar-era nightclub singer Sally Bowles in Bob Fosse's adaptation of the Broadway musical "Cabaret." Watch her perform a medley of songs from that show here.
'Liza With A Z' (1972) - Produced, directed and choreographed by Bob Fosse, Liza's 1972 television concert film took home four Emmy Awards. Watch her perform the title song here.
'My Own Best Friend' (1975) - In 1975, Liza briefly replaced Gwen Verdon as Roxie Hart in the original Broadway run of the musical "Chicago." Watch her perform one of the hit show's numbers here.
'New York, New York' (1977) - Although the song became Frank Sinatra's signature tune, 'New York, New York' was originally written by John Kander and Fred Ebb for Liza to perform in the 1977 Martin Scorsese film of the same name.
'The Muppet Show' (1979) - The star appeared on 'The Muppet Show' in 1979, opening with this stellar rendition of Barry Manilow's hit 'Copacabana.'
'Baryshnikov on Broadway' (1980) - Watch Liza share the stage with Mikhail Baryshnikov in this incredible 1980 TV special.
'Frank, Liza & Sammy: The Ultimate Event' (1989) - Liza performed alongside fellow legends Frank Sinatra and Sammy Davis Jr. in this 1989 televised concert.
Performing With Queen (1992) - One year after frontman Freddie Mercury's death, Liza took the stage with members of Queen in London in 1992 for this rendition of an arena rock classic.
'Arrested Development' (2004) - In 2004 and 2005, Liza appeared on the Emmy Award-winning show "Arrested Development" as Lucille Austero. Check out one of her deleted scenes here.
GLAAD Vanguard Award (2005) - After winning the GLAAD Vanguard Award in 2005 for her support of LGBT equality, Liza entertained the crowd with "What Makes A Man A Man," a song written about an impersonator.
My Chemical Romance's 'Mama' (2006) - Liza contributed guest vocals on My Chemical Romance's song "Mama" -- portraying "Mother War," a dark conception of the main character's mother.
'Liza's at the Palace' (2008) - Liza paid homage to her late mother in 2008 with this vaudeville-inspired tribute, "Palace Medley."
'Sex And The City 2' (2010) - Liza stole the show from Sarah Jessica Parker and company with her cover of Beyonce's hit "Single Ladies."
With Charles Busch On Her Gay Fans (2011) - Liza looked back on her career highlights, and her status as gay icon, with author Charles Busch.
January 31, 2012:
Liza Minnelli to Kick Off 2012 TCM Film Festival (via Official Liza Minnelli)
Liza will kick off the TCM Film Festival with Joel Grey and Robert Osborne on April 12th. The festival opens with the world premier screening of the 40th anniversary restoration of Cabaret. Read the full press release here:

For Release: Jan. 31, 2012
Liza Minnelli, Joel Grey, Debbie Reynolds,
Film Noir Stars Peggy Cummins, Rhonda Fleming and Marsha Hunt
And Silent Era Child Star "Baby Peggy" Diana Serra Cary,
Slated to Attend the TCM Classic Film Festival
Passes Now on Sale Now for Four-Day Festival,
Coming to Hollywood April 12-15, 2012
Liza Minnelli, Joel Grey, Debbie Reynolds, and "Baby Peggy" Diana Serra Cary, along with film noir leading ladies Peggy Cummins, Rhonda Fleming and Marsha Hunt are the latest stars scheduled to appear at the 2012 TCM Classic Movie Festival.
Also announced today, the festival will feature the North American premiere of a new 75th anniversary restoration of Jean Renoir's powerful POW drama Grand Illusion (1937), widely regarded as one of the greatest films ever made. And the Mont Alto Motion Picture Orchestra will provide a live musical accompaniment for a screening of the silent Douglas Fairbanks fantasy-adventure The Thief of Bagdad (1924).
Minnelli and Grey are slated to join TCM's own Robert Osborne to kick off the four-day, star-studded event with a gala opening-night world premiere screening of the 40th anniversary restoration Cabaret (1971), the film for which the two stars took home Academy Awards. Reynolds will make her second appearance at the TCM Classic Festival, appearing at the world premiere screening of a new 60th anniversary restoration of Singin' in the Rain (1952). Reynolds will also appear at a 50th anniverary screening of How The West Was Won (1962), which will offer festival passholders the rare opportunity to see the epic western in all its Cinematic glory at Arclight Cinema's Cinerama Dome.
Cummins, Fleming and Hunt and will each appear at screenings of film noir classics, presented as part of a celebration of The Noir Style. And Cary, who was one of Hollywood's top child stars during the silent era, will join filmmaker Vera Iwerebor for the U.S. premiere of Baby Peggy: The Elephant in the Room (2010), Iwerebor's fascinating documentary chronicling Cary's life on and off the screen.
In addition, the festival's celebration of Style in the Movies will include an extensive tribute to one of the most stylish actresses in cinema history: Audrey Hepburn. Presentations will include Sabrina (1954), Funny Face (1957) and the world premiere of a new 45th anniversary restoration of Two For The Road (1967).
The 2012 TCM Classic Film Festival will take pace Thursday, April 12 - Sunday, April 15, 2012, in Hollywood. Passes are on sale now through the official festival website: tcm.com/festival.
The following is a roster of newly added screenings and appearances:
Opening Night
Cabaret (1972) - World Premiere 40th Anniversary Restoration, featuring appearances by Liza Minnelli and Joel Grey*
One of the most acclaimed films of its era, Bob Fosse's Cabaret stars Oscar-winner Liza Minnelli as an American singer looking for love and success in pre-World War II Berlin. Joel Grey, who is currently co-starring in the Broadway revival of Anything Goes, earned an Oscar as the ubiquitous Master of Ceremonies. And Michael York co-stars as a young English teacher whose eyes are opened by what he experiences.Fosse also earned Oscar gold for directing this perfect showcase for his unique choreography and imaginative visual style.
* schedule permitting
Style in the Movies - The Noir Style
Presented by Eddie Muller, founder of the Film Noir Foundation, this collection explores the unique style of film noir, known for its often-shadowy black-and-white photography and stylistic set design.
Raw Deal (1948) - Featuring an appearance by Marsha Hunt
Noted for its extraordinary cinematography by John Alton, this gritty Anthony Mann thriller stars Dennis O'Keefe as a man in prison for another man's crime, Claire Trevor as the gun moll who helps him break out of jail and Marsha Hunt as the social worker who wants to reform him. Raymond Burr and John Ireland co-star.
Gun Crazy (1950) - Featuring an appearance by Peggy Cummins
Long before Bonnie and Clyde rattled moviegoers came this ruthless tale of a gun-toting husband-and-wife team. Peggy Cummins and John Dall star, with a script by blacklisted writer Dalton Trumbo (credited to Millard Kaufman).
Cry Danger (1951) - New restoration, featuring an appearance by Rhonda Fleming
Shot in only 22 days by former child star Robert Parrish, this gripping film noir stars Dick Powell and Rhonda Fleming in the story of a man trying to clear his name after being sentenced for a crime he didn't commit. Cry Danger has been restored by the UCLA Film & Television Archive, in cooperation with Paramount Pictures and Warner Bros., and funded by the Film Noir Foundation.
Audrey Hepburn: Style Icon
The TCM Classic Film Festival pays tribute to one of the most beautiful and stylish actresses ever to grace the screen with this collection of films showcasing Audrey Hepburn.
Sabrina (1954)
Audrey Hepburn is the chauffeur's daughter caught in a love triangle between tycoon Humphrey Bogart and his playboy brother William Holden. Billy Wilder directed and co-wrote this off-beat romance, based on the play Sabrina Fair.
Funny Face (1957)
Fred Astaire is a fashion photographer who turns Audrey Hepburn into a chic model in this highly stylized musical featuring memorable Gershwin songs. Kay Thompson co-stars, with impeccable color cinematography by Ray June and John P Fulton.
Two For The Road (1967) - World Premiere of 45th Anniversary Restoration
Audrey Hepburn and Albert Finney star as a quarrelsome couple reminisce about their relationship during a drive in southern France in Stanley Donen's insightful drama. Henry Mancini wrote the score. The 4K digital restoration of Two For The Road was completed by Twentieth Century Fox in collaboration with The Film Foundation.
Additional Events & Screenings
The Thief of Bagdad (1924) - Featuring live accompaniment by the Mont Alto Motion Picture Orchestra
Douglas Fairbanks considered this lavish fantasy to be his personal favorite, and it's easy to see why when one watches the gymnastic and charismatic star in action. Fairbanks stars as a thief in love with the daughter of Caliph, with Raoul Walsh directing.
Grand Illusion (1937) - North American Premiere of 75th Anniversary Restoration
Jean Renoir directed this extraordinary World War I drama about a small group of French officers held captive. Considered by many to be one of the greatest films ever made, Grand Illusion features memorable performances by Jean Gabin, Pierre Fresnay and Erich von Stroheim.
Singin' in the Rain (1952) - World Premiere of 60th Anniversary Restoration, featuring an appearance by Debbie Reynolds
Gene Kelly and Stanley Donen's delightful musical about Hollywood's transition to talkies features Kelly, Debbie Reynolds and Donald O'Connor, alond with the scene-stealing Jean Hagen and the sensuous Cyd Charisse. This movie will be presented in celebration of the 100th anniversary of Gene Kelly's birth.
How The West Was Won (1962) - Presented in Cinerama and featuring an appearance by Debbie Reynolds = Event sponsored by Arclight Cinemas and presented at Arclight's Cinerama Dome.
The panorama of the American West is presented in its glory with a memorable Cinerama presentation of this epic adventure from directors John Ford, Henry Hathaway, and George Marshall. This multi-generational tale stars Henry Fonda, Gregory Peck, George Peppard, Debbie Reynolds, Caroll Baker, Carolyn Jones, Eli Wallach, Robert Preston, James Stewart, John Wayne, Richard Widmark, Waltar Brennan and many more.
Baby Peggy: The Elephant In The Room (2010) - U.S. Premiere, featuring appearances by "Baby Peggy" Diana Serra Cary and filmmaker Vera Iwerebor
This intimate portrait of one of the last survivors of Hollywood's silent era features the 92-year-old star speaking openly for the first time about her life and experience as a child star. Diana Serra Cary's sudden rise to fame and fortune as Baby Peggy had a severe impact on her family life. The frustrations of her father, the naivety of her mother and the jealousy of her senior sister created a love/hate relationship between the young star and those around her. But she reserved her greatest anger and resentment for the Baby Peggy persona itself. Now with the discovery of her lost films, Cary has seen her childhood talent through fresh eyes and slowly reconciled with her younger self.
About the 2012 TCM Classic Film Festival
Taking place Thursday, April 12 - Sunday, April 15, 2012, in Hollywood, the third-annual TCM Classic Film Festival is produced by TCM and sponsored by Vanity Fair, host of the exclusive, opening-night party, and Delta Air Lines, official airline of the event. Since launching in spring 2010, the TCM Classic Film Festival has quickly established itself as a destination event for film lovers, drawing more than 25,000 attendees from around the country and around the globe in 2011.
The Hollywood Roosevelt Hotel, which has a longstanding role in movie history and was the side of the first Oscars ceremony, will serve as the official hotel for the festival, as well as home to Club TCM, a central gathering point for passholders. Screenings and events will be held at Grauman's Chinese Theatre, Chinese 6 Theatres, the Egyptian Theatre and, for the first time this year, Arclight Cinema's Cinerama Dome.
About TCM
Turner Classic Movies is a Peabody Award-winning network that presents great films, uncut and commercial-free, from the largest film libraries in the world. Currently seen in more than 86 million homes, TCM features the insights of veteran primetime host Robert Osborne and weekend daytime host Ben Mankiewicz, plus interviews with a wide range of special guests. As the foremost authority in classic films, TCM offers critically acclaimed original documentaries and specials, along with regular programming events that include The Essentials, 31 Days of Oscar and Summer Under The Stars. TCM also stages special events and screenings, such as the TCM Classic Film Festival in Hollywood and the TCM Classic Cruise; produces a wide range of media about classic film, including books and DVDs; and hosts a wealth of materials on its website, http://www.tcm.com. TCM is part of Turner Broadcasting System, Inc., a Time Warner company.
Turner Broadcasting System, Inc., a Time Warner company, creates and programs branded news; entertainment; animation and young adult; and sports media environments on television and other platforms for consumers around the world.
Follow TCM on twitter @TCM and @TCMPR.